Harrogate Grammar top of the business pops
A trio from Harrogate Grammar were worthy winners of this year's National Schools Business competition...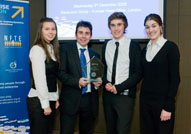 This week MT was in London to judge the grand final of the National Schools Business Competition, a nationwide hunt for the most business-savvy sixth formers in the country organised by the Enterprise Education Trust. The 150 school entrants been whittled down to eight via a series of regional heats – and after a day of stiff competition, Harrogate Grammar were awarded the top prize. Sixth formers Emily Simmons, Andrew Senior and Jo Frith win an all-expenses-paid five-day trip to New York, where they'll attend a business conference and presumably, spend some increasingly expensive dollars in the shops. They never had prizes like that in our day...
The eight teams had a tough task: they were given a hefty data pack and asked to produce a strategy for taking a failing magazine brand online (let's hope they weren't suggesting anything by inviting us along to judge). The fictitious Pop Mag was apparently a well-established title aimed at 12-16 year olds – so the teams had to decide whether the move online necessitated a change in branding (or target audience), come up with a marketing plan to re-launch the title, and at the same time produce a cast-iron month-by-month financial plan. All in three hours. Just looking at it made us come out in a cold sweat...
Fortunately however, the students were a lot more enterprising than us, and dreamed up some great ideas. Several were in favour of ditching the existing brand and starting from scratch, while others decided to try and build on its existing brand loyalty. Marketing ideas ranged from standard TV slots, to viral online videos, to MySpace banners, to in-school promotions, while all kinds of exciting music and lifestyle events were suggested (mostly involving McFly, it seemed).