Harry Potter and the Half-Paid School Fee
A remarkable revelation from Baker Tilly: Harry Potter's school Hogwarts is apparently quite far-fetched.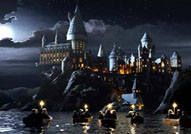 In news that will shock Muggles everywhere, accountancy Baker Tilly has come up with an important flaw in the portrayal of Hogwarts, the school for witches and wizards in the Harry Potter series. Apparently there's no way it would actually be able to retain its status as a charitable independent school without offering almost £1m in bursaries to disadvantaged magic folk (if that's not a contradiction in terms). But we can't help wondering: why the assumption that Hogwarts doesn't do this already? What's £1m in wizard money? And more importantly, have these accountants got way too much time on their hands?

Baker Tilly has been conducting its 'research' to coincide with (/ shamelessly cash in on) the release of the latest film in the series, Harry Potter and the Half-Blood Prince. Based on JK Rowling's passing references to Hogwarts being a 600-pupil private boarding school in Scotland, the accountancy has reached an estimate of its annual income (based on the Independent Schools Council's average boarding fees). And since charitable schools have to shell out over 5% of their income in bursaries to pass the 'public benefit' test, it reckons this would add up to a potential bill of £976,248. So the question is: can it afford that kind of pay-out in a recession?

Or at least, that would be the question, were it nor for the fact that a) we have no way of knowing whether the wizard world is subject to the vagaries of the economic cycle; b) presumably if Professor Dumbledore needed £1m he could make it appear out of his hat; c) it might well be offering bursaries already, for all we know, given JK's largely exclusive focus on Harry, Ron and Hermione; and perhaps most importantly d) Hogwarts doesn't actually exist.

There is actually a serious point behind this nonsense. Independent schools are having a hard time in the recession – parents are finding it harder to pay their fees, while at the same time, they're having to shell out an increasing proportion of their revenue (not their profits, note) on bursaries to maintain their charitable status. And not many headmasters have a magic wand to make these problems disappear.

But while we're sure Baker Tilly was keen to highlight this issue, we can't help feeling they only really worked this out because they had a few hours to kill and thought it'd be fun. Accountants, eh...
In today's bulletin:
No more Mr Nice Non-Exec, says Walker
Last Gatwick bidder bites the dust
A tale of two entrepreneurs as Sports Direct profits plunge
Harry Potter and the Half-Paid School Fee
Web stressed at work? Quit your job