Hayward out, Dudley in as BP plummets to record loss
BP posts a massive $17bn quarterly loss thanks to soaring clean-up costs - but it's not all bad news.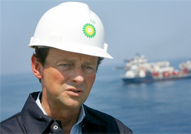 The headline numbers from BP's quarterly results statement today aren't pretty: it's put aside a whopping $32.2bn to pay for the clean-up operation in the Gulf of Mexico, and this meant a loss of $17bn in the three months to June - the worst result in UK corporate history. And as expected, CEO Tony Hayward is off, to be replaced by Bob Dudley. On the other hand, it looks as though it can cover its costs via asset sales - and since the rest of its business seems to be holding up pretty well, its future looks a lot more secure now than it did a few weeks ago...
That higher-than-expected $32.2bn charge - which covers compensation already paid, the $20bn fund it was strong-armed into creating by President Obama, and any future costs from fines and lawsuits - is the first time BP has put a figure on the full costs of the clean-up job. And it makes sense for BP to take as much of the pain as possible at once. But in fact, the final bill could be higher: chairman Carl-Henric Svanberg told the BBC that this figure was predicated on BP not being found 'grossly negligent' for the explosion - and the courts may beg to differ on that point.
Meanwhile Dudley becomes the first American to run what was once British Petroleum - a clear indication of BP's shifting power base. BP's key Russian partners are happy enough with that, according to the Telegraph, despite their spectacular fall-out while he was running Russian JV TNK-BP (it was never personal, apparently...). And in a neat twist, it looks as though Hayward - who despite his supposed lack of political skills, helped to smooth over that little row - is going to join the board of TNK as a non-exec. Since he also gets a £1m pay-off and a £600k pension, he's not done too badly - which we'd argue is not unreasonable for someone who's served BP with distinction for 30 years.