HBOS bad debts soar to £8bn ahead of Lloyds vote
HBOS needs all the help it can get from Lloyds, judging by its latest dismal trading figures...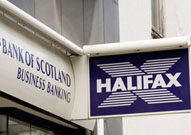 HBOS said this morning that its bad debts and losses for the first 11 months of the year now totalled £8bn. Since this figure stood at £3.2bn at the end of September, this means it's written off a whopping £5bn in the last eight weeks alone. HBOS has released the figures on the very day that shareholders are due to vote on its proposed takeover by Lloyds TSB – and some of them (particularly in Scotland) are still grumbling about the terms. However, these figures highlight the torrid state of its finances, and provide a helpful reminder of why it needs a white knight. Even one on a black horse...
Today's figures show just how rapidly HBOS's loan book is deteriorating. The consumer side stuff is bad enough – in the last two months its impairment charges (the cost of covering debts gone bad) on mortgages have risen from £400m to £700m, and on unsecured loans, from £800m to £1bn. But it's the corporate loans that are truly scary: in just eight weeks, its bad debt charges have soared from £1.7bn to £3.3bn. Ouch. Analysts have been warning that HBOS was over-exposed to the struggling retail and property sectors – now its chickens appear to be coming home to roost.
And the worrying thing is that the worst is probably yet to come. 'Global market and economic conditions, UK recession and increasing unemployment will continue to present a particularly challenging operating and credit environment,' the bank said today, which is basically corporate-speak for 'You ain't seen nothing yet'. As people lose their jobs and reduce their spending, there are going to be even more consumers and corporates falling behind on their loans; while falling interest rates are also going to squeeze the bank's margins. Not surprisingly, this wretched news has hammered its share price – HBOS promptly slumped 11%, while Lloyds and even RBS tumbled by similar amounts.