HBOS losses top £5bn as Lloyds deal looms
Lloyds TSB detailed its offer for HBOS today - as the latter revealed the lamentable state of its finances...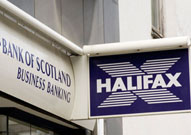 As Lloyds confirmed the details of its tie-up with HBOS today, it emerged that the Scottish bank has now racked up losses of more than £5bn this year, as the financial crisis torpedoed the value of its investments. Lloyds has coped rather better, but it still saw a sharp fall in profits during the period – which is why the two banks are now seeking about £17bn of taxpayers' money from the Government to finance their proposed merger. Although there's still a chance a mystery bidder could derail the process...
HBOS said today that it made another £2.7bn of writedowns and losses in the third quarter, meaning that it's now £5.2bn in the red for the year as a whole. Its strategy of investing heavily in all aspects of the housing market seems to be coming home to roost: impairment charges on corporate lending hit £1.3bn last quarter, while it took more losses on its mortgage book than in the rest of the year put together. Sub-prime losses are slowing slightly, but as the housing market continues to implode, that won't be much consolation. £8.5bn of the Government pot will be used to plug the holes in its balance sheet (there's also £4.5bn for Lloyds and another £4bn in preference shares).
Lloyds is also desperately trying to reassure investors about the deal (which it's already had to renegotiate once because of HBOS's plummeting share price). It's promised to start repaying dividends again by 2009 (which doesn't give it long to pay the Government back), with an all-share dividend due for this year. It seems to have received reassurances from the Government that it won't interfere too much with executive pay and commercial strategy. And it's also said that the tie-up will save £1.5bn a year, 50% more than expected (news that will worry HBOS staff, whose jobs are likely to be the source of these 'synergies'). These reassurances seem to have done the trick– both banks saw their share prices rise this morning.