Health and safety in 'not killjoys' shock
The incoming president of the Institution of Occupational Safety and Health, Europe's largest industry body, has raged against all those who have ever criticised his profession as 'bureaucratic busy-bodies, red tape robots or tick box Tonys'. So that's presumably just about all of us, then…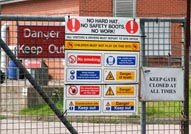 Health and safety's finest will descend on Alton Towers tomorrow to hear the inaugural speech of new president Ray Hurst, who plans to rally the troops with a Churchillian display of oratory (though we're guessing he won't let them go on any of the rides, just in case).
Hurst is sick of safety professionals getting the blame for banning all sorts of fun stuff, including Christmas lights, fireworks displays, conkers, British Bulldogs, mistletoe and all sorts of other things guaranteed to make the Daily Mail apoplectic (our favourite was the kids who got banned from making daisy chains in case they pick up germs from the flowers).
The blame lies with 'bureaucratic bunglers' and 'well-meaning amateurs' who are taking decisions without a clue about the consequences, he will pronounce from his lectern (which will presumably have had its corners sanded down in case any small children bang their heads).