Healthy = wealthy and wise?
UK plc is getting better at managing health and wellbeing at work - but there's a long way to go.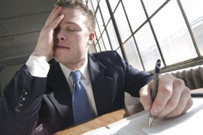 Britain's top companies are getting a lot better at thinking and talking about the health and wellbeing of their employees, according to the latest figures from Business Action on Health. The campaign, which was launched a year ago by Business in the Community to try and improve the lot of UK workers, says more of our big public companies are recognising the importance of this area and publishing the results of their efforts – but too many are either ignoring it altogether, or failing to think about it in a structured way.
The argument for treating this as a core business issue (rather than as CSR frippery) is very simple: it's the best way to increase productivity and cut down on your absenteeism costs. According to Business Action on Health, it also aids your recruitment efforts:a YouGov survey commissioned by the campaign found that 60% would consider leaving an employer who didn't take this issue seriously, and 83% consider it when deciding whether to take a job. So it's probably not a sensible thing to ignore.
The good news is that the proportion of FTSE 100 companies who publish details of their wellbeing initiatives has gone up, from 68% to 81%, while 40% now include it in their annual reports (probably because of the PR value, the cynic might suggest). Equally, the proportion using quantitative measures of success – like absenteeism levels or the number of people on healthy eating programmes – has more than trebled, from 7 to 23. But the campaign realises that's still pretty paltry, and wants to get this figure up to 75 by 2011 – a big ask when some companies still don't even collate absence data centrally…