Heathrow CEO John Holland-Kaye - Globalisation means 'no' to Gatwick
As London's new runway battle heats up, MT asks the boss of what may soon be only the world's second busiest airport where he thinks it should go. Guess what he said?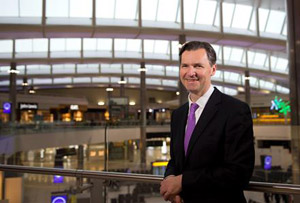 If there were an annual award for the CEO who is most on top of their brief, then John Holland-Kaye would surely be odds-on to win it.

Heathrow Airport's affable new CEO may only have been in his job since July, but he has clearly been doing his homework when it comes to the red hot, top priority item in his inbox – the campaign to secure the decision that London's new runway should be built at Heathrow.

With around eight months left before the Davies Commission plumps for either Heathrow or Gatwick – and only six or so until the General Election – things are definitely warming up, as everyone from the travelling public through the airlines to government and local residents makes their views known.
Heathrow may even be about to lose its 'World's busiest airport' crown - Middle Eastern rival Dubai looks set to shift 71m passengers this year, neck and neck with Heathrow. But Dubai is predicting over 78m in 2015. Oh dear.

Consequently the 49 year-old Holland Kaye – who was Heathrow's development director before taking over the left hand seat from Colin Matthews - sets out his stall in the determined manner of one who knows that the clock is ticking, and that success in his new role depends upon winning this argument.

Point one - added value. 'The Davies Commission has stated that expansion at Heathrow will create £211bn of economic value for the country – nearly twice as much as expanding at Gatwick – and 180,000 jobs. That's almost double the entire NHS budget. It's a transformational prize and we need to grasp it.'

Point two – Reports of the death of the hub airport have been greatly exaggerated. 'The hub and spoke system is one of the most efficient economic models for connecting people and things. It's what the Royal Mail does, it's what Google and eBay do' he says.

'The world is changing and we need to be connected to the growth markets in Asia and north and south America. Only the Heathrow hub can support long haul routes like that and help the UK win the race for economic growth.'

This addresses one of the key questions that the Davies Commission will have to answer: is what's required a bigger hub to provide a greater supply of transfer passengers and fill large long-haul aircraft like the A380? Or a point to point set up to exploit the new generation of smaller long-range twin-engined planes such as Boeing's 787 Dreamliner?

His arch-rival, Gatwick's CEO Stewart Wingate, thinks point to point is the future. Holland-Kaye does not. 'Being a hub at the heart of the global economy is better for the UK than being a spoke on someone else's network, and having to fly via Paris or Frankfurt. That adds time, cost and inconvenience. It's just not good enough.'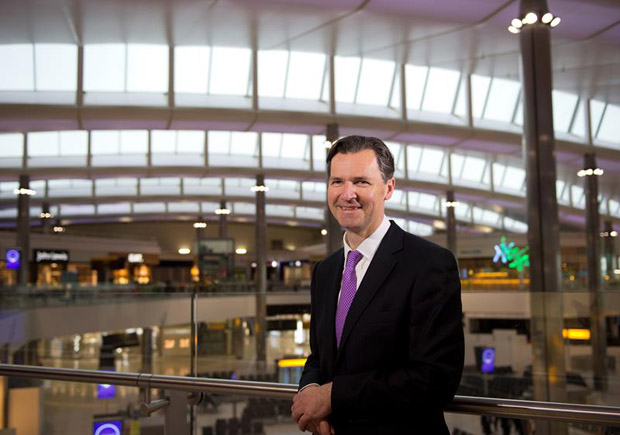 Point three – exports. 'Over a quarter of the UK's exports go through Heathrow currently. If we want to double exports we can't do that without expanding at Heathrow.' This is a potent but little known pro-Heathrow point which he is eager to see more widely appreciated. Air freight accounts for 40% of total UK exports by value, 66% of which pass through Heathrow. Despite the fact that the airport is running at capacity, its freight volumes grew by 5.3% in the year to November. That includes everything from foodstuffs to pharmaceuticals and no less than 408 tonnes of diamonds, worth a sparkling £4.3bn.

Finally, lest we forget that any new runway should serve the needs of the entire nation, Heathrow is also, he says, the answer for regional renewal too. 'It is the solution for the whole of the UK not just the south east. Not only would it provide more long-haul routes to make London the best connected city in the world, it would also offer new domestic routes to places like Inverness, Liverpool and Humberside, which have been cut off from growth through lack of capacity at Heathrow.'

Hmm. Heathrow may be more accessible for passengers from beyond the capital than Gatwick, but neither can boast the kind of direct mainline rail access enjoyed by other major hubs like Frankfurt or Schiphol. And its location – requiring as it does aircraft to fly at low level over one of the most densely populated parts of Europe – is hardly ideal in other respects. All the same, several regional airports have backed it, including Aberdeen, Leeds-Bradford, Liverpool and Newcastle.

Heathrow's favoured option is to build a new 3,500m runway one mile to the north west of the existing facilities. The cost? It says £14.8bn, the Airport Commission estimates £18.6bn. There is also a proposal on the table to extend the existing north runway to make effectively two runways operating in tandem at a cost of between £10bn - £13bn. By comparison, the cost to build a new runway at Gatwick is estimated at a relatively modest £7bn-£10bn.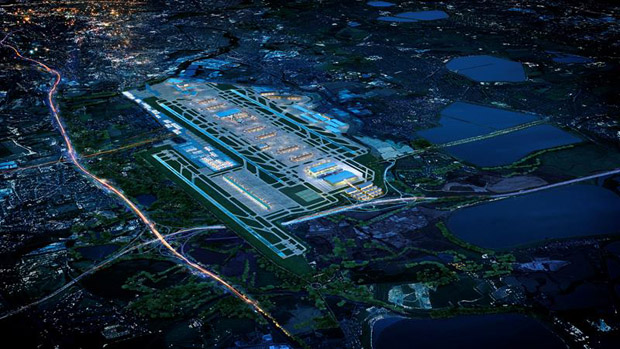 His predecessor, 57-year-old Colin Matthews, surprised many when he stood down after six successful years at the top, citing the fact that he would be 70 by the time that any new runway was built (not likely to be before 2025). But Matthews - now head of the Highways Agency - was also rumoured to be less than enthusiastic about all the public attention that championing the bid would have entailed. He earned around £2.2m in his final year, and Holland-Kaye is believed to be in line to collect a similar sum.

Holland-Kaye on the other hand has been girding his loins for the media fight to come. Lean, tall and well-dressed, his easy manner and lack of pretention should stand him in good stead for appearing on the telly. 'I am more comfortable with the high profile than I thought I would be. You never know what being on live TV will be like until you've done it. Now in some ways I prefer it live – it makes you much sharper.'

But what about those who claim that Heathrow's dominance of the UK airport scene stifles competition and limits customer choice? 'The alternative to Heathrow is not Gatwick. If we don't develop Heathrow, passengers will go via Paris or Frankfurt or Amsterdam instead.

'My ambition as chief exec is to take Heathrow from being one of the best airports in Europe to being one of the best in the world. We can absolutely do that.'

But despite – or perhaps partly because – of his seamless logic and ready stock of good answers, eventually the listener begins to wonder. If it's all so simple, why wasn't the decision taken years ago? That failure to act is largely political of course, history being littered with governments who have ignored the recommendations of previous official reports, right the way back to the stillborn Maplin Sands – progenitor of the now equally moribund Boris Island - in the 1970s. The spectre of whatever flavour of government is in power after next May dodging the decision yet again, is the one thing which unites both rival airports.

Not that Heathrow's past efforts have been entirely blameless - particularly the promise of nearly 20 years ago that a third runway would never be built there. He told the Airports Commission earlier this month 'I am shocked by that commitment. It should never have been made. And it could never be kept. It has hung over our relationship with local communities.'

By 'fessing up he hopes to be able to move on. At least, born in Cumbria and with a career in the construction business – he was at housebuilder Taylor-Wimpy before Heathrow - he can claim not to be a native of the metropolitan elite. And a boss who knows how to build things will come in handy should the extra runway get the go-ahead in the end.

Indeed, a recent Populis poll suggested a surprising degree of local support, with – admittedly sometimes modest – majorities in favour of a third runway in eight out of nine nearby constituencies, despite widespread concerns over additional noise pollution for the 725,000 people who live under the flightpath. The prospect of an extra 40,000 jobs in the immediate vicinity must help.

Holland-Kaye himself now lives in Oxfordshire with his wife and two kids, but spent many years in Fulham spotting aircraft coming in and out of Heathrow in his garden. 'I enjoyed sitting out there watching the tailfins come over, and I wasn't even in the business then.

'But I've always enjoyed travel, there is something glamorous about the possibilities of it. The plane on this stand might take you somewhere prosaic like Brussels, but the plane on that stand could be going somewhere you've heard of but never been, like Zanzibar. It still gives me a thrill.'

The crux of his case remains tied to the gravitational allure of far-off places. To keep playing with the big boys and girls of the global economy, he says, the UK needs a grown-up, globally-competitive airport with direct flights to all points east in particular.

The future is more business class to Chengdu than cattle class to the Costa del Sol, he reckons. 'My eldest daughter had to choose between GCSE French and Mandarin. She chose Mandarin, because she says it will take her further in her life than French.

'It's a good analogy for Heathrow versus Gatwick. Gatwick is all about flights to Europe, whereas Heathrow is about taking her to the rest of the world. It would be a tragedy if our generation let kids like her down'.

So he is engaging, plausible and sincere. But is he right, and will he prevail? In the end it will likely come down to politics. Airports Commissioner (and MT diarist) Howard Davies, is a wily bird who knows this and is giving nothing away. We – and the bosses of Heathrow and Gatwick – will just have to wait and see.
Heathrow's third runway in numbers
Length of new NW runway: 3,500m

Est cost: £18.6bn