Heathrow under-capacity costs the UK £14bn per year
Lack of capacity for extra planes at Heathrow airport is costing the UK around £14bn in lost trade every year, according to its owners.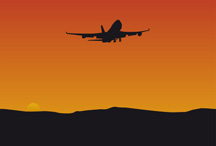 Bosses at Heathrow Group, formerly BAA, have said that a third runway at Heathrow would allow for 35 million more passengers per year, and would make it competitive with European rivals for a generation.
The airport is currently running at 99% capacity and handles 70 million passengers per year, but this is not enough, according to the airport's owners.
In its report, submitted to the Davies Commission on aviation, it argues that airlines prefer to do the long-haul routes from major international hubs, instead of using 'point-to-point' airports like Gatwick and Stansted.