Heathrow vs Gatwick: It's getting scrappy
The claws come out in the new runway debate as the Airports Commission prepares to begin its public consultation.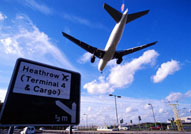 A touch of vituperative banter is expected when two heavyweights square up, but sometimes it can get plain catty. Heathrow boss John Holland-Kaye took a few good swipes yesterday, telling the Telegraph that airlines were launching routes from hub airports on the continent rather than using Gatwick, and that the Sussex airport's second runway plan was 'primarily about low cost flights to Europe'. Meow.
This comes after this month's MT Interview with Gatwick chief exec Stewart Wingate, in which he said Heathrow could talk to the hand, with western European hubs so last century anyway. While Gatwick may not be too upset at Heathrow's stinging comments, however, it might be more concerned with its numbers.
Heathrow revealed strong results yesterday, with revenues up 8.2% to £1.99bn for the nine months to September 30th, buoyed by a 1.5% increase in passenger numbers to 73.4 million. Profits were down to £58m from £266m, but this was primarily because of a one-off boost to 2013's numbers from the sale of Stansted.