Heathrow will lose out to Dublin, insists Aer Lingus
While all the faffing around on Heathrow expansion persists, Aer Lingus might be onto something. Meanwhile, the cheap airlines had a good June.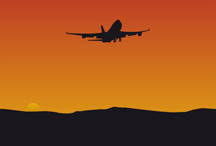 If you listen to Aer Lingus, Heathrow will be on the decline within a few years as a major hub airport. The Irish flag carrier says that increasing numbers of passengers from Scotland and the north of England are using Dublin to make the hop over the US, deliberately avoiding Heathrow. Apparently the airline has seen the number of UK customers going to the US via Dublin rise by about 36% in a single year.
Being based at Dublin airport, they would that, so why is Dublin so much better? Well, UK passengers using it for transatlantic trips are able to go through US customs before they actually depart, meaning there is no queuing when they get off at the other end. The other benefit is that if you buy single tickets to Dublin (from England or Scotland) and then by your long-haul tickets in Ireland, then you only pay Air Passenger Duty on the short part of the flight.
Not to mention, Heathrow is running at a smidge under full capacity, so it's a hellish place at any time of year that you might fancy going on holiday. Christoph Mueller, Aer Lingus chief exec, says: 'The further north you live the more benefit you have going via Dublin to the US because you save so much time avoiding Heathrow.' On the other hand, this could be wishful thinking by the boss of an airline that has had its fair share of troubles in recent years, and which would dearly love to see more passengers arriving at Dublin Airport.