Hedge fund manager orders gold bullion to fill Christmas crackers
Rob Halliday-Stein, founder of Bullion By Post, has received a rather unusual request. 'I need 50 one-gram gold bars,' said a customer, 'to fill our Christmas crackers'.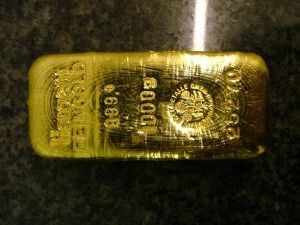 If you thought the days of corporate excess were over, you're crackers. According to Bullion By Post boss Hailliday-Stein, whose online bullion company delivers gold bars and coins through the mail, a hedge fund manager 'for a well known City bank' recently placed a sizeable order - for cracker fillers.
The chap explained that he was after 'something special' to put in the crackers for the annual Christmas bash for clients.'The one-gram gold bars are about the size of a thumbnail so they are the perfect fit,' explains Halliday-Stein. The hedge fund man promptly ordered fifty.
'At about £50 a bar they're not exactly breaking the bank, although you must wonder what the rest of the lunch is like if they're using gold bars for the cracker presents,' says Halliday-Stein.