Help to Buy and garden cities: shares in housebuilders are rising fast (chart)
The chancellor's decision to extend Help to Buy until 2020 means shares in housebuilders are rocketing.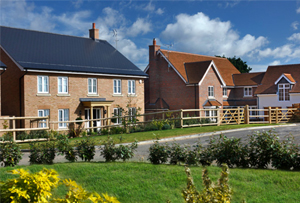 The Help to Buy scheme may be much-maligned among analysts, politicians and pretty much anyone with a GCSE in economics, but house buyers absolutely love it: in its first 10 months, 14,823 properties were bought using the scheme, under which the government guarantees 95% mortgages.

The strange thing about Help to Buy is that although the political establishment and most businesses think it's ridiculous, it's proving one of the coalition's most popular policies. And let's not forget we're careening towards an election year…

So George Osborne's revelation yesterday that one of the policies to be announced in the Budget (this Wednesday – stay tuned for coverage, etc etc) is an extension of the Help to Buy scheme until 2020, will go down swimmingly with voters.

Yesterday the chancellor appeared on the Andrew Marr show, where he revealed that a) Help to Buy (or the part of it that applies to new-builds) will be extended beyond its current 2016 deadline, and that b) this will help to finance a 'garden city' (one of Nick Clegg's pet projects) of 15,000 homes in sunny Ebbsfleet, Kent.

This morning housebuilders are doing the share price equivalent of skipping around meadows with flowers in their hair: shares in all the UK's major housebuilders are up, with the best performers including Bovis, whose share price rose more than 5% to 898.5p (and counting), and Barratt Developments, whose price rose more than 3% to more than 427p.

There's an argument that Help to Buy has given housebuilders an artificial sense of stability. They're not complaining, though: here's the chancellor's announcement affected prices this morning.
Source: Yahoo Finance