Herd mentality at DEFRA
After a string of data mishaps, the government has surpassed itself: it's managed to lose 20,000 cows...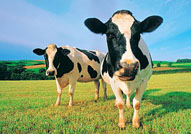 Defra, the Department for Environment, Food and Rural Affairs, has shamefacedly admitted to Parliament that it's managed to lose 20,979 cows. Apparently they were supposed to be logged on to its Cattle Tracing System, introduced after the BSE and foot-and-mouth epidemics, but have somehow disappeared without trace. At the same time, another 1000 were loaded onto cattle trucks – and never seen again. It's easy to feel some sympathy for the hapless civil servant who loses 20,000 names on a memory stick. But cows?
Given that the Government's in the process of taking control of vast swathes of the financial sector, its recent track record on data management (bovine or otherwise) doesn't exactly inspire confidence. In the last year it's already managed to mislay details of prisoners, child benefit claimants, bank account holders and learner drivers, plus some confidential dossiers on the war in Afghanistan. Only last week, some Armed Forces personal data went missing. But even by these standards, losing 20,000 cattle is a pretty remarkable achievement.
It also begs the question: where have all these cows gone? Was it a computer glitch, or is there a big herd wandering around without a farm to call their own? Could it even be that somehow out there, an army of Guernseys and Jerseys is now in training, secretly preparing itself for the revolution?