Here's how Silicon Valley would look if Apple built homes in its car park
A designer has done a series of speculative drawings of what the headquarters of Apple, Google and Facebook would look like if they provided housing for their workers.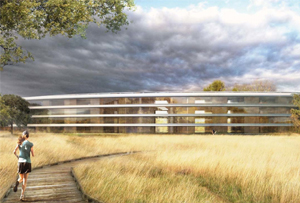 Like London, housing in Silicon Valley is notoriously expensive: according to a survey by real estate company Kwelia, the median income around Palo Alto is now $220,000 (£132,000). That has, not surprisingly, pushed rent up: in Palo Alto, it's now about $3 per square foot, while in San Francisco it's about $4-$5 per square foot. That makes it more than $3,000 for the average one-bed apartment.
Not unreasonably, locals tend to blame technology companies who have pushed up wages, thereby ensuring even the smallest spaces cost the earth. As a solution, local designer Alfred Twu (best known for creating the US High Speed Rail Map and the California Rail Map) has created designs that squeeze homes for all the workers at Apple, Google and Facebook into the space they currently allocate for their car parks. It's cheap - and it'll help save the planet, too.
1. Apple Campus 2
Apple's new 2.8 million sq ft Campus in Cupertino is still under construction. When it's finished, it'll have enough room for more than 12,000 employees, with a cafeteria that can house 3,000 people. Imagine if it could house them, too...