Hey, Cable: executive bonuses have already dropped
If Vince Cable were on mastermind, this would be his specialist subject. This morning, he warned FTSE 100 chairmen they face government action on bonuses if they don't cut them.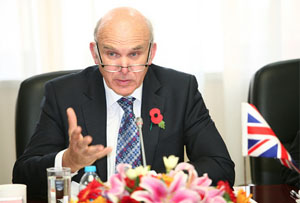 If there's one subject business secretary Vince Cable enjoys, it's executive bonuses. Last month, he said he 'deprecated' Barclays executive Rich Ricci's £18m payout. A week before that, he told the Observer 'I don't understand why people need a million quid a year'. In February, he said RBS' bonus culture 'will have to go'. To be clear: Cable is not a fan of big bonuses.

So it was presumably with gusto that Cable wrote to the chairmen of FTSE 100 remuneration committees this morning, reminding them that 'excessive and disproportionate pay in the corporate sector damages popular trust in business and threatens to undermine business' licence to operate'.

'I therefore think it vitally important that remuneration committees consider how remuneration policies can genuinely support sustainable value creation and avoid creating unwelcome incentives to focus excessively on short-term goals,' he added, rather confusingly.

'At a time when every part of the economy is striving to get more from less, I hope you find yourselves animated by the same spirit.'
Cable's letter comes a day before the much-awaited Barclays AGM, during which executive pay will almost definitely be a point of conversation (remember CEO Antony Jenkins and his bonus 'death spiral'?).
There's an argument that Cable's ministrations have come too late. Studies published in September showed that quite apart from Cable's view of CEOs languishing in baths filled with money or driving around in solid gold Rolls-Royces, bonuses for FTSE bosses have actually dropped. According to PwC, bonuses in the FTSE 350 dropped for the second year in a row, with one in 10 executives receiving no bonus at all. For those who did get a rise, the majority were about 3% - roughly in line with inflation in 2013.

Deloitte, meanwhile, studied FTSE 100 executives: their median bonus payouts were 67% of the maximum payouts possible (which is generally 150% of salary). That was a significant fall from 75% in 2011 and 87% in 2010.

And anyway, short of bringing in measures so draconian they would seriously jeopardise the UK's position as the financial capital of Europe, there isn't a lot more Cable can do about bonuses. Last year the government introduced regulations giving shareholders a vote on future remuneration policy once every three years. The EU also introduced rules capping the bonuses of anyone earning over €1m at 100% of salary.

Neither have gone down well. Earlier this month the FT published a report showing the bonus cap is actually helping banks recruit top brass: they've simply swapped the word 'bonus' for 'role-based allowances' in bankers' contracts, and merrily carried on as they were.

Still, Cable's point that bankers' reputations remain pretty sordid is fair, and you can understand his argument that 'unless business is seen to act responsibly, pressure for further action will inevitably result'. The problem is that the UK has almost 3,000 bankers earning €1m+ - more than 10 times the number of its nearest rival, Germany. They may take a lot of cash, but they make a lot for the British economy too. To drive them away would be to bite the hand that feeds us.

Cable is fighting a lost cause. He needs a new one. Boardroom quotas, anyone?