High inflation has 'cost the UK £10bn', says report
The Ernst & Young Item Club, which makes economic forecasts using the Treasury's own methods, says inflation has cost the UK £10bn over the last three years alone.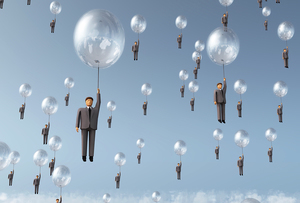 It's an influential report because it is not conducted by a government agency, and yet uses the same (generally trusted) economic models as the Treasury. The E&Y Item Club report says that because inflation has averaged out at 3.5% for so long, well above the government's 2.5% target, it is likely to remain 'a permanent fixture'. It also said that it has had a 'corrosive impact on the UK economy', shaving about £10bn off our GDP in the last three years.
The Item Club's senior economic adviser, Carol Astorri, said: 'It could have been worse. Our modelling shows the [BoE Monetary Policy Committee] was right to stick to their guns, allowing inflation to overshoot and avoid tightening monetary policy. The alternative scenario would have seen interest rates rise by 3.5% in 2011, choking off the recovery even earlier and adding an additional 625,000 people to UK dole queues.'
The club's report said that inflation is unlikely to get below that Holy Grail of 2.5% before 2017. That means that even though consumers have already seen food prices rise 40% since 2007, for example, the price growth is showing no signs of a slowdown. Chief economist for E&Y, Mark Gregory, said: 'With consumer spending continuing to be curbed by rising costs and only set to improve gradually, retailers will need to battle harder than ever to win the war for our wallets.'