High street fright as shoppers take flight
Another dismal month for high street sales - and some big names are feeling the squeeze...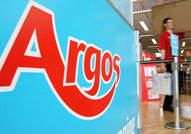 Retail sales fell by 0.4% in September, according to the Office for National Statistics, as more and more of us reacted to the gathering gloom by keeping our hands firmly in our pockets. Although this was actually slightly better than the expected 0.9% drop, it still means that annual high street sales growth now stands at 1.8%, down from 3.3% in August and the slowest for two-and-a-half years (we can't say we really recall the spring of 2005 being particularly terrible, but we'll take their word for it).
One of the hardest hit has been Home Retail Group, owner of Argos and Homebase, which has already shed half of its value this year. The company said today that it made a first-half loss of £437m, thanks largely to a massive £550m write-down on the value of Homebase – the DIY group is now worth about two-thirds the price at which HRG bought it. What's worse, customers are still deserting in droves – apparently like-for-likes at both Argos and Homebase have suffered 'high single digit' falls since its second half began in August, which is likely to push full-year profits to the very bottom end of expectations. As a result, it's been forced to slash investment in new stores by £50m to make ends meet.
Another high street stalwart scaling back its spending is Currys. Parent DSG International, which also owns PC World, said it was going to cut investment by £30m amid slowing demand – apparently like-for-like sales in the six months to October were down 7%. DSG has already lost about 90% of its value in the last two years, so we imagine this won't help. And if you've been in any of its stores recently, you'd be forgiven for wondering just how bad they might get if they spend even less money on them...