High street sales heat up in February
Retail sales finally thawed (a bit) last month. But things aren't looking as sunny for Eurotunnel.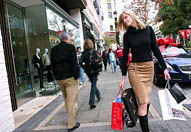 Retailers are usually pretty quick to blame the elements for lacklustre figures, but now they can thank the weather (yes, really) for a slight uplift in sales. Like-for-like retail sales for February were up 2.2% on this time last year, as the deep freeze that gripped the nation during January finally eased and shoppers returned to stores. But even this wasn't enough to please the British Retail Consortium, which wagged its finger and warned that the results are 'not that strong'. And if you look back at the sales figures from last year that are being used as a benchmark, you can see its point.

The BRC said overall sales were up 4.5%, or 2.2% on a like for like basis – a marked improvement on the 0.7% fall seen in January. Non-food sales continued to increase (albeit slowly): clothing and footwear were up again, while homewares and furniture finally returned to growth. However, the real success was internet shopping: this was up 15.5%, as online retailers caught up with the backlog of orders caused by the cold weather the previous month.

Yet the BRC isn't exactly cock-a-hoop over the latest figures. It points out, quite rightly, that the figures are bound to look good because they're being compared with the disastrous sales in February 2009 (due to - you guessed it - the bad weather). What's more, food sales rather ran out of steam, according to the BRC, slumping to their lowest levels since 2007. The theory is that this is because shoppers stocked up during the January cold snap (as opposed to those of us worried about our own lacklustre figures being panicked into bikini diets).

Although we're clearly not out of the woods yet, these new figures suggest things are at least heading in the right direction on the high street. And we can probably say the same thing about another weather-affected company: Eurotunnel, which saw profits nosedive to €1.4m last year. The Channel Tunnel operator continued to suffer from the fall-out of a fire in the tunnel in September 2008, and was also hit hard when Eurostar trains struggled to operate in December last year due to 'fluffy snow', leaving thousands of customers stranded. Since it made €34m in profit in 2008, that's quite a slump. But given its previous history of massive losses, boss Jacques Gounon will probably be grateful it still ended the year in the black, despite all that bad luck.

In today's bulletin:
Pound hammered again as UK trade deficit hits 17-month low
High street sales heat up in February
Kroll and private equity - a match made in heaven?
Women more resilient than men?
Five steps to a stress-free working life