High street shop vacancies rise
Closing down signs. Final sale posters. Empty shop window after empty shop window. The UK's high streets are becoming retail deserts according to the Local Data Company, with average vacancy rates rising to 14.6% in June, up from 14.3% six months ago.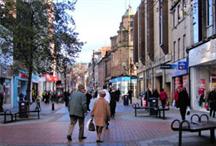 The LDC's latest Too Many Shops report, which looked at 145,000 shops across 506 town centres, has found that despite the government's attempts to breathe life back into the high street - and 'Queen of Shops' Mary Portas' endless exhortations - shop vacancy rates have continued to climb.
Worst hit is the North West, with average vacancy rates of 20.1% - one in five shops now lies empty. But the West Midlands is a close contender, showing the sharpest decline over the past six months, with 18.9% of shops now closed, compared with 17.7% in January. Only London has escaped the retail slump unscathed - at least according the these report metrics (short-term leases of empty premises by flash sale businesses aren't counted) - with vacancies falling to 10.1% from 10.7%.
But it is in individual towns that the blight of the UK high streets is most worrying. In Margate, where Portas has been focussing her efforts of late, the shop vacancy rate stands at a 36.5%. This is tumbleweed territory. Nottingham too, despite its status as a leading business centre, currently has 30% of sites sitting empty. The number of empty shops in the top 650 town centres currently stands in excess of 23,000. In contrast, the UK's best high street can be found at Chalfont St Peter in Buckinghamshire, where there is not a single empty shop.