More high street woe as retail sales plunge again
November saw the second consecutive monthly drop in retail sales, for the first time on record...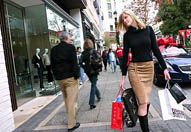 The latest British Retail Consortium-KPMG figures reveal that total retail sales were down 0.4% in November, following October's 0.1% drop – the first time there's been two consecutive months of sliding sales since the BRC's records began in January 1995. On a like-for-like basis, the decline was even more marked, with sales falling by 2.6%. So not a pretty picture – particularly on a day when it emerged that industrial output is falling at the fastest rate for six years, the trade deficit has widened, and the number of house sales has slumped to a 30-year low...
To be fair, these retail figures were perhaps not quite as horrible as some gloomy prognosticators had led us to expect. But it's hard to put a positive spin on a sixth consecutive like-for-like sales decrease. Only food sales saw any kind of improvement, and given that may be because people are spending less money eating out and socialising, it can't really be cited as good news for the economy. Meanwhile discretionary spending on things like furniture and DIY goods was well down on last year, despite big discounts. 'There is little doubt that Christmas will arrive late for many retailers, leaving them with a very nerve-wracking couple of weeks to come,' said KPMG's Helen Dickinson. Even the growing area of non-store sales (to include online) saw a much slower rate of growth than last month.
The good news for shoppers is that both retailers and the government are determined to make it even easier for us to spend money in the run-up to Christmas. Last week the Bank of England slashed interest rates to 2%, which means there's little incentive to put money in the bank. Meanwhile the Treasury is banking on its costly 2.5% drop in VAT to stimulate demand (although frankly we're very sceptical – does a 4p reduction really make a skinny latte seem that much more affordable?).