High-voltage discount for charged cars
The Government has revved up its subsidies program for electric cars, announcing details of the first nine models eligible for grants. But don't expect a surge...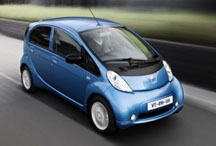 The £43m initiative gets the green light on 1 January, when buyers will get a 25% discount - up to a maximum £5,000. But only three models of pure electric cars will be immediately ready for delivery. For the rest there may well be a wait of 18 months. We suggest the Government employs a new slogan: available in any colour, as long as it's 2012.
The Coalition has also dished out £20m to build plug-in charging points in the Midlands, Greater Manchester, the East of England, Scotland and Northern Ireland. That follows similar schemes in London, Milton Keynes and the North East. So the delay will perhaps prove useful – it may allow time for other areas to get charge-points of their own, preventing the embarrassment of loads of early adopters spending nights in juiceless cars on the outskirts of Exeter.
The good news is that the first three subsidised models are available from January: the Mitsubishi i-MiEV, the Smart fortwo electric drive and the Peugeot iOn. It's also good to see the manufacturers continuing the industry's propensity for weird names. But while Peugeot's iOn may sound like an appliance that handles badly and has a tendency to overheat, at least its name is a little more 'electric' than its latest wagon, the Bipper Tepee, which suggests all the dynamism of Enid Blyton writing about a tent.