Hippodrome Casino hopes to squash 'backstreet gambling dens'
After seven years of preparation, London's Hippodrome will become a four-floor casino complete with cabaret hall and four restaurants. Are Las Vegas-style casinos the way forward?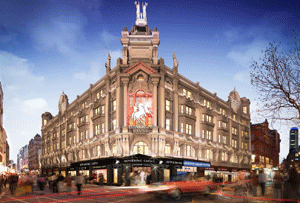 When the 2005 Gambling Act relaxed casino membership rules and gave the nod to bigger venues, it was predicted that the 'mega casinos' associated with Las Vegas would become a familiar sight in the UK.

But many of these 'new generation' casinos never materialised. There are around 150 casinos in the UK – only ten more than a decade ago. Casino at The Empire, based in Leicester Square, is currently one of the country's biggest casinos at 55,000 square feet. But it's about to face stiff competition from a new neighbour a few doors down.

Simon Thomas and his father Jimmy, who both made their names in the bingo business, have spent £40m turning the Hippodrome, a famous London landmark, into the capital's largest casino. And after seven years of preparation, Thomas is getting ready for the opening next month. Measuring 90,000 square feet, the Hippodrome Casino will house three gaming floors, five bars, four dining rooms and a 180-seat cabaret theatre.
'The typical British casino is like a 1970s backstreet gambling den. We're creating an international-style leisure venue with bars, restaurants and entertainment as well as a casino. If people want to come in, watch a show and have a few drinks without doing any gambling, we'll still be happy,' Thomas said on a recent tour of the building.
Thomas is hoping to attract people who don't normally visit casinos. Some 73% of Britons participate in gambling, but mainly by playing the national lottery or fruit machines. Casinos account for less than a tenth of the £10bn the UK gambling industry is worth, according to research by H2 Gambling Capital, which monitors trends in the industry.