Hitler birthday cake meets with icy response
The customer isn't always right - particularly when he wants a birthday cake for his son Adolf Hitler...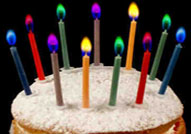 The US is often regarded as the home of impeccable customer service – where no trouble is too much for accommodating shop owners. However there are limits, as New Jersey couple Heath and Deborah Campbell have found: their local ShopRite supermarket has refused to sell them a cake inscribed with a birthday message for their son – who believe it or not, is called Adolf Hitler Campbell. Apparently the store thought this was an inappropriate use of an icing bag. It's hard to know where to start…
Poor Adolf's father is apparently a big Nazi fan – his house is adorned with swastikas, and he stomps around in a pair of Nazi jackboots. In fact, such is his devotion to the cause that he's called his eldest daughter JoyceLynn Aryan Nation Campbell and his youngest Honszlynn Hinler Jeannie Campbell (which is apparently redneck for Heinrich Himmler). However, just in case you were all set to leap to any conclusions about Heath, he insists he's not racist, claiming that some of Adolf's best friends were black: 'If we're so racist, why would I have them come into my home?' he cried plaintively.
Campbell, who apparently chose the name because it would be unique, claims he can't understand why his child is being singled out like this. 'It's not fair to my children', he moaned to the local paper – which is a bit rich from a man who's given his kids Nazi names... What's more, the bakery department also turned him down two years ago when he wanted a cake covered in swastikas, so we doubt it was a complete surprise. Perhaps it's all just a tawdry publicity stunt to fool gullible business news outlets (doh).