HMV profits from rivals' woes - but Waterstone's sales slide
HMV seems to be doing a little better. But unfortunately it's no thanks to bookselling arm, Waterstone's.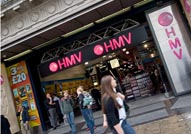 It's been a tough year or so on the high street, marked by the collapse of many a retailing stalwart, including Woolies, Zavvi and more recently, Borders. But this can sometimes be good news for their rivals. And HMV is one such company that seems to have benefited: today the games-and-music retailer reported a 1.6% rise in like-for-like sales for the UK and Ireland. Unfortunately, sister company Waterstone's did rather less well, dragging down sales across the whole of the HMV Group by 2.1%. No chief exec likes to see sales shrinking, and we expect Simon Fox is no exception. But things could arguably be a lot worse for HMV...

In truth, today's results were a bit of a mixed bag. The group made a half-year pre-tax loss of £24.9m; that doesn't sound particularly impressive, admittedly, but it's at least an improvement on the £27.5m loss it made in the same period last year. Overall sales were up 5.6% to £797m, which HMV puts down to its acquisition of 32 former Zavvi stores earlier this year (as well as the Woolworths-shaped hole on the high street).

Unfortunately, the decline of Borders has yielded no such benefits yet for Waterstone's, where sales fell 4.3% in the last six months, pushing out operating losses from £3.6m to £12.9m as a result. There is no doubt that book-selling is a tricky business to be in at the moment – as Borders found out – thanks to the increasing number of us opting to buy our books in supermarkets or online at places like Amazon. And you know things are bad when even the inexplicably-popular celebrity autobiography stops flying off the shelves: last year four celebrity titles sold more than 100,000 copies each; so far this year, none have done that well (we'd like to think our obsession with celebrity is waning, but somehow we doubt it).

HMV's investors may also have been alarmed to learn that the company's net debt is up, rising by £14.5m to reach £88m – although the company put the majority of this down to its acquisition of digital music group 7Digital, in which it bought a 50% stake for £7.7m. Uncertainty in the group's core markets, which have been shaken by developments in digital technology and the prominence of the internet, seems to have made HMV wary about putting all its eggs in one basket (which sounds perfectly sensible to us). Hence why it's been moving into some new areas this year: it's opened a three-screen HMV Curzon cinema in Wimbledon as a pilot scheme, and last night it bought an 8.2% stake in Mama, the live music and management business.
Now all it needs to do is find a way to make us buy books from a shop again...

In today's bulletin:
Greece is the word amid rumours of Budget bust-up
HMV profits from rivals' woes - but Waterstone's sales slide
JJB continues rehab as DSG man takes top job
Happier employees = unhappier managers?
My Week: MC Hammer (now of Cash4Gold)