Can HMV stop Amazon?
The long resurrection of the high street retailer continues as it snatches CD and DVD market share from Amazon, but ultimately the trend only goes one way.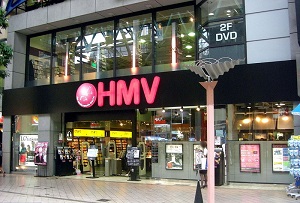 The British high street has been 'dying' for decades now, yet a quick glance at our city centres shows they haven't become boarded-up, dystopian ghost towns. Those retailers that survived the onslaught of Amazon and the other online stores did so of course by adapting. Argos ditched heavy catalogues for sleek tablets, while HMV's new management said a firm goodbye to its long rows of £19.99 CDs (those were the good old days).
Data from market researchers Kantar Worldpanel seemed to vindicate that approach today. In the physical entertainment sector (music, game and films in DVD or CD form), the high street lifted its share of sales to 68.4% for the 12 weeks to 27 September, from 64.6% the year before.
HMV led the charge, raising its share from 12.3% to 13.6%, followed by Game (10.6% up from 9.5%) and Argos (4.2% up from 3.2%). Sainsbury's and Morrisons grew their share slightly, but Tesco and ASDA's woes continued, with the supermarkets losing 0.3 and 2 percentage points respectively.