Honey I shrunk the economy (a little less than we thought)
The British Chambers of Commerce has slightly increased its forecast for UK growth for 2012. But we're still getting smaller...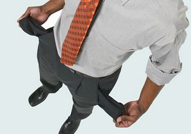 According to the BCC, the UK economy will shrink by 0.1% this year, less than the 0.4% it had predicted previously. Before we get too carried away by 0.3% less shrinkage (if it's possible to get excited by that), this is 'entirely due to the stronger-than-expected' growth in the last quarter, helped by the Olympic Games.
As such it echoes the sentiments of the Bank of England last month, which added a note of heavy caution to news that the UK economy had bounced back from recession in the three months to September, after a prolonged period of contraction. Outgoing Bank chief Mervyn King was forced to point out that much of this 'recovery' was down to the hoards of athletic types who came to London this summer to race each other and throw things (not his exact words).
Meanwhile his soon-to-be-former colleagues at the Bank have been painting a far starker picture. 'In terms of the loss of incomes and outputs, this is as bad as a world war,' Andy Haldane, the Bank's executive director for financial stability said yesterday of the financial crisis. 'If we are fortunate, the cost of the crisis will be paid for by our children. More likely it will still be being paid for by our grandchildren.' [On a separate note, you can read Haldane's review of the best business books of the year here.]