Hong Kong brain's drain
An increasing number of residents from Hong Kong are looking to mainland China for job opportunities. With its booming economy, shortage of local talent and increase in salaries, China has recently become an attractive career prospect for success-hungry Hong Kong Chinese.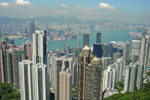 Average income in the old British colony has risen 3% since 2005, but for Hong Kong residents working on the mainland, salaries increased some 25%. The cost of living on the mainland is also still significantly cheaper than in Hong Kong, which explains why around a quarter of a million Hong Kong residents now work in China.
For companies based on the mainland, hiring Hong Kong residents is hugely advantageous. They tend to speak some mandarin along with fluent English. They are more familiar with western management practices than their Chinese counterparts but don't require extensive cultural training.
The Hong Kong government is aware of this brain drain and has set up a scheme to attract talent on its turf. The 'Quality Migrant Admissions Scheme' is open to all nationals but welcomes skills in finance and accounting in particular. The programme launched in July 2006 but has only recruited 100 people so far.
Source: Talent flows both ways betweem Hong Kong and the mainland
Pacific Bridge
Review by Emilie Filou