Hornby gets Boots after walking from HBOS
Alliance Boots has ruffled a few feathers by giving ex-HBOS chief Andy Hornby its top job.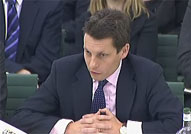 Andy Hornby, the CEO who was forced out of HBOS after the bank's taxpayer-funded rescue last year, has got another top job – he's just been appointed as CEO of Alliance Boots. It's a brave choice by the private equity-owned pharmacy chain: Hornby has come in for an awful lot of stick for presiding over the near-collapse of HBOS, so his recruitment (presumably on a £1m+ salary) will no doubt provoke more gnashing of teeth about rewards for failure. On the other hand, a return to his retail roots at least gives Hornby a chance to redeem himself…

Boots also tried to hire Hornby back in early 2006, prompting the board of HBOS to speed up his appointment as CEO. Admittedly the bank was already heading for a fall at this point, thanks to the strategy of his predecessor Sir James Crosby. But the fact remains that during Hornby's two years in charge HBOS continued to pursue the same aggressive lending policies. This left it horribly exposed when the wholesale funding market collapsed, ultimately forcing the bank to seek a huge Treasury loan and flog itself on the cheap to Lloyds TSB. Its new owner recently revealed that HBOS lost nearly £11bn last year.

So it's fair to say that HBOS represents a considerable blight on the CV of Hornby, who'd previously been seen as a bit of whizz-kid. An Oxford graduate, he finished top of his class at Harvard Business School and enjoyed a meteoric rise at Asda, where he held various senior retail roles. In 1999, he was poached by Halifax, initially as chief executive of its retail division, and after the merger with Bank of Scotland, took a similar role with the combined group, before becoming COO and then CEO (the youngest ever, aged 38). So as Boots will presumably have noticed, his record suggests he's a much better retailer than he is a banker.
Coming so soon after HBOS's near-collapse, we can see why some shareholders might be irate that Hornby is being allowed to bounce back with another highly-paid job (it's the kind of speedy rehabilitation that will make a few recently ex-Cabinet ministers prick up their ears).
But Alliance Boots is no stranger to controversy – its private equity owners KKR (along with Hornby's new boos, exec chairman Stefano Pessina), already stand accused of asset-stripping the venerable retailer and piling it with unsustainable debt. So it has a thick skin, and clearly feels he's is the best man for the job. And its status means Hornby can get on with the day job away from the prying eyes of the public markets.