Hornby on track for bumper profits
For of you who wasted large swathes of your childhood (or even adulthood, for that matter) playing with Scalextric and Transformers, it will no doubt be heart-warming to learn that Hornby, the maker of these legendary toys, reported bumper half-year results today.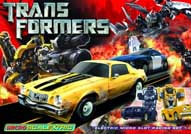 A big increase in Scalextric sales helped the UK business to increase sales by more than a third in the first half of this year, to £17.3m, while profits jumped 44% to £2.6m. Which just goes to show that if you want to be a great British manufacturing sucess story, don't try and build it all yourself - follow Hornby's example and outsource it to China.
The Hornby brand is best known for its model trains, which tend to be popular with men of a certain age (who usually lead secret lives in their cellars). But these days it has a lot more strings to its bow. In the US its Transformers products have gone down a storm since it hammered out a distribution deal with Toys R'Us, while its recent acquisitions in Europe (particularly Spain and Italy) are also doing a roaring trade.
Hornby chief executive Frank Martin modestly gave a large slice of the credit for its bumper results to Formula One sensation Lewis Hamilton, who he says has 'literally driven' a resurgence of interest in motor sport (we're pretty sure that this is actually a metaphor, but the point still holds).