Horsemeat found in Tesco 'beef' burgers
For anyone who's eaten a Tesco burger recently, this is the stuff of night mares (geddit). Horse meat has been found to account for 29% of Tesco Everyday Value burgers.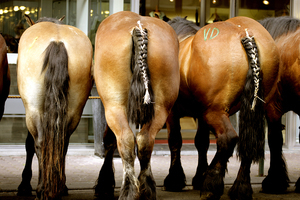 Burger lovers across the UK are chomping at the bit today over news that British supermarkets have been flogging burgers containing more than just beef. Tests have been carried out on 27 beef products sold in Tesco, Lidl, Aldi, Iceland and Dunnes Stores and low levels of horse's DNA have been uncovered in 10 items, with a further 23 products found to contain pig DNA.
But Tesco really takes the (Sea)biscuit; its burgers were found to contain 29% horsemeat. The UK's largest supermarket chain has now removed all beef products originating from the incriminated meat processing plants.
Did they know about the horsemeat? 'Neigh,' says group technical director Tim Smith. 'The presence of illegal meat in our products is extremely serious. We understand that many of our customers will be concerned by this news, and we apologise sincerely for any distress.'