Hot-desking: hot or not?
Hot-desking may be the height of fashion, but it could be sharpening elbows at work, says Peter Ames.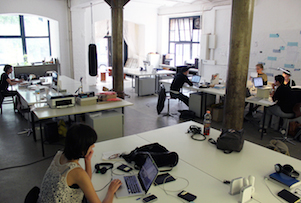 Hot-desking is a heated topic, one that's fiercely debated by the workforce. Loved by bosses and nomadic workers, it is often hated by those who face a daily scramble to find a free workstation.

It's thought the origins of the term may be in the military tradition of 'hot-racking'. On submarines more than one sailor would be assigned to a berth or rack to save space, much like landlubbers working in offices playing musical chairs and desks.

Nowadays implementing a hot-desking policy does more than set your business apart as modern and trendy (or trying to be anyway). There's a strong business case for it, too, particularly in major cities, where office rents are higher.

Hot-desking encourages people to work flexibly, from other locations, by removing the expectation that they have a desk. Some advocates also argue it makes your staff more creative and productive, by encouraging them to talk to employees in other departments they wouldn't normally work with.

But how does it go down with employees?
Theory One
Hot-desking is a way to free up desk space to make for a more efficient, cost-effective business model. In other words, a company only has as many desks as is needed. After all, not everyone is in the office at the same time, are they?

In practice: What happens if too many employees decide to turn up at the office on the same day? Your employees' time is money, so your business's output is hurt if your people have to hunt for that elusive desk space. You also risk your staff becoming increasingly frustrated and disgruntled.
Theory Two
Hot-desking helps foster a more collaborative approach to work. Rather than sitting next to the same colleagues every day, you encourage interaction across different teams, resulting in a friendlier, more creative vibe.

In practice: Humans are territorial creatures. We like our own space and we don't like change. Okay, you could argue, it's good to talk to new people, it encourages the spirit of cooperation. But it can lead to sharp elbows and resentment when you're constantly trying to secure a desk. Cue all sorts of quite literally dirty tricks, like sweaty gym kit and damp towels left draped over chairs.