Hot weather gets retailers sweating
While Britons lapped up the recent 'Indian summer,' retailers watched their sales melt.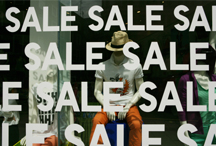 Retail sales suffered their steepest fall for two and a half years in September. Sales fell 4% on a year ago, according to figures from accountancy firm BDO. Fashion stores were the worst hit - sales fell 5.1% as consumers stayed away from the new winter lines to make the most of the last burst of sunshine.

The hot weather, combined with a lack of promotional deals and economic gloom, supplied the ingredients for a 'perfect storm,' BDO said. When does the weather ever favour retailers? As last winter showed, freezing weather is also blamed for poor sales.
The figures revealed in BDO's High Street Sales Tracker looked even worse because they were compared to a strong September last year, when sales rose 6.1%. Even aside from this comparison, the 4% sales drop was the biggest sales fall since February 2009, when Britain was deep in the throes of recession.

It tops off a series of gloomy reports from retailers last week. John Lewis reported a 7.9% drop in like-for-like sales for the week to the first of October. Mothercare also issued a shock profit warning, which dragged its shares down by 130p to 180p. The baby products retailer said that UK like-for-like sales had fallen by almost 10% over the three months to the beginning of October. Clothing retailer Supergroup, owner of the Superdry brand, also saw its shares lose a third of their value on the day the company announced full-year profits would be down by up to £9m.

All retailers blame weakening sales figures on a drop in consumer demand as the economic slowdown continues. But there should be some relief on the cards as Christmas approaches - sales usually bounce back once the seasonal promotions start appearing. It might not be enough to save full-year profits, but it comes just in time for the strained high street.