Hotel chain promises rocking revolution
Holiday Inn is preparing for what has been dubbed the biggest makeover in hotel history, a move that will involve ditching its famous script-lettering logo and introducing 'lemongrass scent diffusers' and 'pillow menus' to its branches. Which should make life all the more lovely for the 100m guests that stay there every year.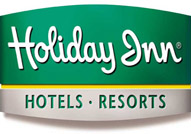 But for all the welcome niceties, visitors can also expect to be treated to piped soft rock music, a development that's as likely to enrage as to entice. As Fred Astaire said in the film that inspired the chain's name: 'A gentle smile often breeds a kick in the pants.' So does an interminable flow of Dire Straits when you're cleaning your teeth in the morning.

The 3,125-strong chain is operated by thousands of franchisees worldwide, who will be required to invest $1bn to update their hotels to the new standard over three years.

All of which sounds very encouraging, especially given recent criticism of the brand. Even Andy Cosslett, chief exec of owner Intercontinental Hotels Group has taken a pop, saying that standards at some of its US branches have slipped to a level that's damaging the brand's reputation. There are the odd complaints over here too. One internet user moaned about a London branch where he encountered a two-inch gap between the toilet door and doorframe, and a duty manager who apparently met his complaint with: 'If you don't like it you can leave'.

But as befits a story about the hotel trade, we too have our reservations. Cosslett chose to unveil the new look (at a Holiday Inn franchisee convention in Dallas) by appearing on stage with a rock band playing bass guitar to 'Queen's We Will Rock You'. Surely this outdated soft rock obsession is in danger of undoing all the good work of the rebrand? Even $1bn-worth of lemongrass and pillow menus can't compensate for that.