Hotel Chocolat founder asks HMRC to take chocolate instead
Hotel Chocolat founder Angus Thirlwell raised £5m for his business via an innovative 'chocolate bond' scheme. But now HMRC want their cut.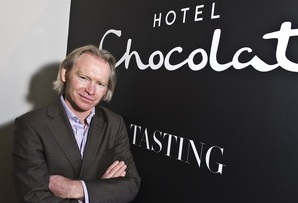 Speaking at the London Entrepreneurial Exchange launch in Birmingham yesterday, Thirlwell regaled the audience with tales of the Hotel Chocolat journey. From creating the original concept in 2003 and acquiring a cocoa plantation - it is the only UK-based chocolatier to grow and harvest its own cocoa - to inventing the brand's new Roast and Conch cafe and expanding abroad, he raced through the potted history in a very modest 15 minutes. 'The Dutch speak great English, which is useful as we didn't want to change the packaging,' he said of the brand's recent expansion into Amsterdam. 'They know what's in a champagne truffle.'
The story is a lively one, and Thirlwell himself has the look of a Branson-esque dynamo, all tousled blonde hair, ruddy tan and perfect diction. And, like the Virgin founder, Thirlwell is regarded as something of an industry maverick.
Case in point, the company runs a very clever chocolate bond scheme - a kind of loan from its customers. In return for investing £2,000 or £4,000 to help the business grow, these bond-holders receive bi-monthly interest payments. Except that the interest is paid in chocolate, not cash. The bonds have been a huge success and the business has raised £5m to fund its international expansion and work on ever more ambitious chocolate lines.