House-building surge boosts UK construction industry
British construction rose in October, helped by the biggest rise in housebuilding in more than two years.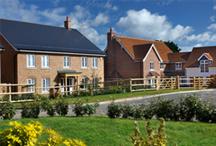 Fuelling speculation that another housing boom could be on the cards, a big jump in house building pushed output in the UK construction industry up 2.2% in October, the Office for National Statistics (ONS) said today.

New housing rose 5.8% from the month before, while repairs were also up. Despite a fall in project commissions in other parts of the construction industry, the house building rise was enough to boost construction output overall, marking a sharp improvement on September when output shrank by 0.5%.

The latest 2.2% rise means that construction output is up 5.3% in total for the year, and suggests the industry is turning a corner after being badly hit by the recession.

Compared to the same time a year ago, new orders are up 17.8%, driven by a 41.6% increase in new housing and a 21.3% increase in private commercial work, which offset a fall in public contracts. Construction accounts for about 6% of UK GDP.

'The introduction of help-to-buy schemes has buoyed the housing market and may be contributing to relatively strong growth in house prices, which grew by 3.8% in the year to September 2013,' the ONS said.

This contrasts with construction growth in the industrial sector, which is still 'weak and negative.'

However, the housing market still has a long way to go to catch up with its pre-recession performance. Just 135,000 homes were built in the year to April 2013, down from the more than 200,000 homes a year that were built in the years running up to the financial crisis, government figures show.