House of Fraser cashes in on Christmas as Bank Fashion collapses
It's a dog-eat-dog world in retail right now, as Black Friday sorts the wheat from the chaff.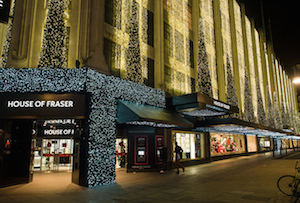 Christmas results from retailers are trickling in and so far they're from the winners: John Lewis and now House of Fraser. The department store reported record seasonal revenues, boosted by booming online sales and, you guessed, it Black Friday.
The chain's like-for-like sales in the six weeks to January 3rd rose 8%. Online sales jumped 31.2%, although the company, majority-owned by Chinese conglomerate Sanpower since last April, conveniently didn't give actual numbers, so that could be from a tiny base.
Black Friday, meanwhile, was bubblier than, well, bubbly: online sales were 125% higher than in 2013, also smashing the previous daily record by 70%.