More house price gloom
The news isn't any getting better on the housing market - particularly if you live in London.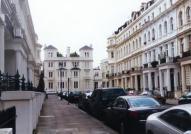 House prices across the country have fallen by 3.2% in the last month, according to property website Rightmove. And the biggest losers by a distance were homeowners in London, where prices plunged nearly 7% - meaning that the average house has lost £28,000 in value in the last four weeks or so.

Worst hit was the affluent borough of Kensington and Chelsea, where house prices fell at around £20,000 a week. Since the average price is now £1,572,814, it's not as though borough residents will drop below the breadline, but there'll still be a few people choking on their croissants and smoked salmon when they read the figures this morning. Even up-and-coming areas like Hackney saw big falls – though admittedly it's still 41% up for the year as a whole.
The problems in the credit markets are clearly one reason for the decline – with lenders struggling to raise funds and buyers nervous, it's no surprise that people are taking a more cautious approach. Rightmove said the introduction of Home Information Packs had also distorted the market slightly, particularly in London. Sellers have been rushing their houses onto the market to avoid the recent deadline, often below the going rate.
Of course, not many people try to sell their house in December anyway. Rightmove's Miles Shipside said today that it was 'wrong… to speculate that prices will continue to fall based on one month's statistics from a quiet December'.