House prices down – possibly
So is the UK housing market about to go pear-shaped or not? In the last few weeks we've digested various figures and bits of research from the market's leading experts – including new figures from Halifax that point to a fall in house prices – and we're still not really any the wiser….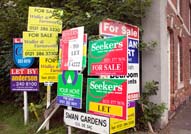 Halifax, the UK's largest mortgage lender, said today that annual house price inflation fell for the second month running in October – the first time this has happened since mid-2005. Prices are now 'just' 8.9% higher than this time last year, whereas in August they were 11.4% higher. Cue lots of gloomy headlines suggesting that the UK market – like its US counterpart – is slowing down as a result of the global credit squeeze.
But maybe it's not so straightforward. Nationwide produced its own research into the housing market in October – and found that price inflation actually increased, ending up 9.7% higher than the same time last year. In fact, for every survey that seems to tell you one thing, there tends to be another one telling you the exact opposite.
Even in revealing today's figures, Halifax seemed pretty positive about future prospects, suggesting that this kind of variation signalled a 'more subdued market' – not a wider crash. Its top economics boffin Martin Ellis reckons that the economy is actually in a pretty strong position. 'Sound market fundamentals, including high levels of employment and a shortage in the number of properties available for sale, will continue to support house prices', he said today.