House prices are falling - even in London
Land Registry data shows house prices fell 0.2% in England and Wales in August.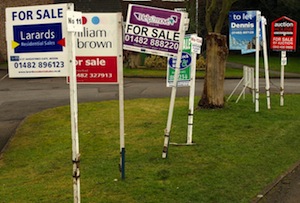 It looks like the hot air really is coming out of the property market – house prices across England and Wales fell 0.2% last month, according to the latest Land Registry data.

The biggest fall was 2.2% in Yorkshire & Humberside, while the capital also cooled off with a drop of 0.7%. Prices still rose 7.2% in the year to September, but the fall in annual house price growth from 8.4% in August is the first since May 2013.
The average property in England and Wales is now worth £177,299, lingering below the peak of £181,324 way back in November 2007. Even with a monthly fall in prices, London is still light years ahead, with annual growth of 18.4% and the average property costing £460,521.
Land Registry uses purchase prices, and so lags indicators that use mortgage approvals or asking prices. But it still fits with a slew of surveys in the last month or so that also show the nascent property bubble starting, ever so slightly, to deflate.

Bank of England governor Mark Carney had been wont to talk up his worries about the property market in recent months - so much so it looked like he was trying to talk it down. But with stricter mortgage rules, the prospect of interest rates rising next year and general pessimism about economic growth keeping on keeping on, it looks like he can sit back and watch – for now.