House prices in fastest fall since 1991
Nationwide says house prices are sinking at record rates. Talk about kicking us while we're down.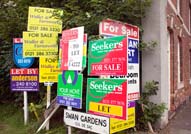 Nationwide said this morning that house prices fell by 1.7% last month, and 4.6% over the last quarter, as a combination of limited credit availability and economic jitters continued to drive potential buyers from the market. It's the 11th consecutive monthly fall, and means that house prices are now 12.4% lower than this time last year – the biggest annual drop since Nationwide started doing the survey, back in the dark days of 1991. And just to really rub salt into the wound, bear this in mind: this time last year, prices shot up by 9% in a single month…
Nationwide tried to put a brave face on things by pointing out that that the rate of decline at least seems to be stabilising – this 1.7% drop is more or less the same as the falls of the last few months. We're all for the glass-half-full outlook (and we can see why Nationwide doesn't want to talk down the market) but this sounds like the smallest of small mercies to us. As economists have been quick to point out today, the fact remains that the housing market is clearly still in freefall. And that means more pain for homeowners: the average house price is apparently back to February 2006 levels, which is presumably bad news for anyone that's bought since February 2006…
The good news is that these figures – coupled with the other gloomy stats out today on the manufacturing and services sectors – will increase the pressure on the Bank of England to cut interest rates next week. Admittedly the MPC's job is technically to keep a lid on inflation, and this is clearly not happening - but with the wider economy apparently going to the dogs, it seems unlikely that Mervyn King and co will just stand by and watch.