House prices plunge nearly 3% in November
The Halifax says house prices have suffered their biggest year-on-year drop since its records began...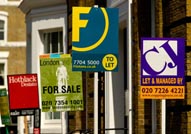 Borrowing might be getting cheaper, but we're still not buying houses. The latest Halifax index reports that the house prices fell another 2.6% in November, topping October's 2.4% drop. The average house now costs £163,605, which is 16.1% less than this time last year – the most dramatic drop in the index's 25-year history. Houses are now back to July 2005 valuations – although that still means prices have more than doubled in the last decade…
It was the same old gloomy story from the Halifax today, who said that a combination of income worries and reluctant lenders is continuing to scare buyers away from the market. 'The combination of high house prices in relation to earnings, constraints on householders' incomes and spending power and the decline in the availability of mortgage finance since the summer of 2007 has curbed housing demand,' said the bank's chief economist Martin Ellis today.
There is a silver lining however – at least if you're a prospective buyer rather than a seller. Falling prices means more affordable houses: the house-price-to-earnings ratio has dropped to 4.56, its lowest level in five years. (Then again, the long-term average is 4.0, so this probably means prices still have further to fall…)