House prices up - but so are insolvencies
Don't know about you, but we're struggling to get too excited about house prices returning to 2008 levels.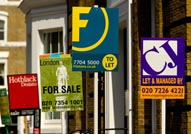 Much rejoicing today (well, some) after Nationwide claimed that the average house price is now more or less exactly the same as it was this time last year. It does seem that the market has stabilised – and at the start of the year, even a mini-recovery like this looked a long shot. But prices are still way below pre-crunch levels – and there's lots of evidence to suggest they might still have further to fall. In fact, we thought the positive trading news from insolvency specialists Begbies Traynor was arguably the more telling economic story this morning…

According to Nationwide, the average house price inched up 0.9% to £161,816 last month, the fifth monthly rise in a row (other trackers might beg to differ, since they all seem to come out with entirely opposing results). But the building society also pointed out that sales remained at a very low level. Activity is running at about half pre-crash levels, as people who don't have to move hang on for the recovery – this lack of supply is clearly boosting sale prices artificially. And even then, prices are still 13.5% below their peak in October 2007. So all in all, this 'recovery' isn't really anything to write home about.

What's more, the smart money has to be on prices slumping again as more sellers come back into the market – particularly since unemployment is still rising and people with cash are using to it pay down their mortgages (we've repaid an extra £30bn in the last year, apparently, although that's not very much compared to the £300bn of equity we sucked out during the boom years). The IMF also pointed out yesterday that house prices usually fall by about a quarter in downturns, so on that measure, we've still got a long way to go.

In fact, you'd probably get a more accurate flavour of the current state of the economy by looking at the latest trading update from Begbies Traynor (home of MT columnist Nick Hood) this morning. Exec chairman Ric Traynor said the group had had a good start to the year, thanks largely to its insolvency practice having more work than it can shake a very big stick at. Great news for Begbies, but not so good for the economy more broadly...

In today's bulletin:
House prices up - but so are insolvencies
Gem of Tanzania loses its lustre for builder
Red tape to blame for 50% of SME failures
British bosses bad at giving bad news
Avoid over-elaboration, with YouTube