Now house sales hit 30-year low
Surveyors saw an average of 11 house sales last quarter - and Taylor Wimpey thinks there's worse to come...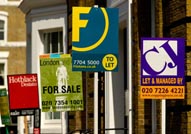 The Royal Institute of Chartered Surveyors said its members reported an average of 10.9 house sales each in the three months to October, the lowest number since its figures began back in 1978. After yesterday's admission by Nationwide that its mortgage lending had shrunk by 70% in the last six months, this offers more evidence (as if we needed it) of the dire state of the UK housing market. But at least RICS disagrees with housebuilder Taylor Wimpey's view that we're still a long way away from recovery...
RICS said the situation was particularly bad in London, where estate agents are barely managing to flog one house a fortnight. It reckons the lack of mortgage availability remains the major reason for the slump, so although falling prices are making houses more affordable (84% of its members reported lower prices), would-be buyers still can't get the finance they need to buy. However, it did end on an optimistic note: 20% of its members now expect sales to rise by the end of the year, up from 4% last month – perhaps they've decided things are now so bad that the only way is up…
Sadly Taylor Wimpey doesn't share this optimism. In a trading update today, it reported that house sales since July were 27% down on last year's figure, suggesting that the 'extremely challenging' conditions could yet lead to more big write-downs (which is hardly going to stem speculation about the state of its finances). And the bad news is that it's not expecting a recovery any time soon. Although last week's mega interest rate cut was seen as a positive step, it said today that 'increased mortgage availability and a return of customer confidence remain the key requirements for a sustained market recovery.' Both of which are in very short supply.