Household spending drops as economy shrinks 0.5%
Official figures show that lower household spending contributed to a 0.5% drop in UK output last quarter...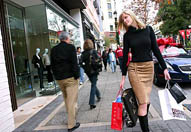 The UK economy shrank by 0.5% in the three months to September, according to the Office of National Statistics, following its flat performance in the second quarter. The stats looked pretty grim across the board, with manufacturing output dropping by 1.3%, services falling 0.4%, and household spending down 0.2%. Even if we won't technically be in recession until the end of December (because it requires two consecutive quarters of contraction), it's clearly only a matter of time.
According to the ONS data, the fall in output in the third quarter was largely due to slower sales of cars and household goods – indeed, the retail, hotel and catering sectors contracted by 1.9%, the biggest drop for nearly 30 years. Clearly shoppers are choosing to preserve their pennies rather than splash out on consumer goods – and who can blame them?
The Government appears to think it can solve this problem with a 2.5% cut in VAT, but not everyone is convinced they're right (will a 2.5% discount really persuade you to buy something you wouldn't have bought otherwise, particularly when retailers are already discounting heavily?). And others are worried about the cost implications of this fiscal boost. In addition to the tax hikes already announced, we also learned today that the Government seriously considered increasing VAT to 18.5% after the next election to claw back some cash. Not exactly the ideal way to underpin a recovery...