Howard Davies: Bond girls, sounding off on Twitter and sacred cows
MT DIARY: Manchester's mayoral hopeful Andy Burnham scores an own goal and Northern Ireland's Brexit-threatened Eurocattle.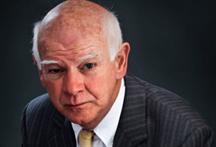 People used to say that you knew you were getting old when policemen looked young. I think those were the days of Dixon of Dock Green, when Jack Warner was still saying 'Evening All' into his 70s. Now it goes without saying that, to me, constables look like teenagers on work experience. Even Metropolitan Police commissoners look youthful. Bernard Hogan-Howe was a generation or two after me at Merton College, Oxford.
But this month I have found a new, and definitive sign of advancing years, not to say senility. I spent 20 minutes at a friend's birthday party in very pleasant conversation with an actress without recalling that she had been a Bond girl. (I know it was 20 minutes because my wife helpfully timed the encounter.) She dated from the Roger Moore era, but to my eyes could have been a Daniel Craig or Pierce Brosnan companion. It is only to spare my own blushes that I do not mention her name. There are former prime ministers whose names escape me from time to time, but Bond girls? The shame of it.
---
The last time I went to the directors' box at Manchester City, I sat behind another Bond – Timothy Dalton. Dalton is a faithful Blue, and would make an ideal candidate for mayor of Greater Manchester, an important post which will shortly become available, as a condition of the Northern Powerhouse funding generously bestowed on a grateful populace by chancellor Osborne. There is a temporary incumbent in the form of Tony Lloyd, but other Labour politicians are lining up. If Dalton won't make himself available Ivan Lewis, a solid City supporter, would fit the bill, and I suppose one might even envisage United loyalists as a last resort.