Howard Davies: Budapest's sinister steam rooms
MT DIARY: The dangers of being a financial regulator in Hungary. And what happens if La Liga kicks out FC Barcelona?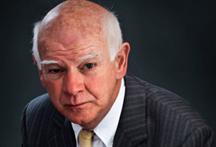 Fifteen years ago, when I was chairman of the late lamented Financial Services Authority, I hosted a meeting of European regulators at my old Oxford College. We drank college port and went punting. It was a jolly knees-up for everyone except the boss of the Hungarian FSA, who showed up with one arm in plaster and sporting two impressive black eyes. He explained that he had been beaten up in a public bathhouse, almost certainly by thugs working for a bank, which thought he was asking rather too pointed questions about its risk weighted assets.
So far, this approach to managing regulatory relationships has not caught on over here, fortunately. But one output of the story puzzled me until the other day. What was he doing in a public bathhouse? The idea has a slightly raffish quality in the English context. Weren't regulatory salaries in Budapest generous enough to afford a flat with running hot and cold?
This month I discovered the answer to my question. We spent the weekend in a crumbling hotel on the banks of the Danube, complete with an ancient spa complex with ornate art deco plunge pools, and a dark steam room in which a careless regulator could easily find himself on the wrong end of a baseball bat. It's what Hungarians do on a Sunday afternoon, it seems, rather then watching Honvéd vs Ferencváros – a fixture which has not been the same since Puskás passed on.