Howard Davies on the crazy world of Albanian politics
The MT Diary: Howard Davies gets trapped in the former German Democratic Republic and sails into Albania just in time for a general election.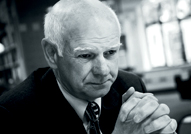 Last month's nick of time escape from Belarus should have taught me a lesson about getting trapped in eastern Europe, but a couple of weeks later I was in the former German Democratic Republic, which proved even harder to leave.
It all started well enough, with an on-time flight to Berlin and an efficient train to Leipzig. I was speaking at a transport conference, organised by the OECD.
Since we haven't built a runway in the south-east of the UK since the Red Army rolled into Leipzig, it might be thought odd that the delegates wanted to hear from us, but the future of London's airports seems to fascinate many. The foreigner thinks we must have a 'cunnin' plan'.