Howard Davies: Death in Frankfurt
MT DIARY: After a visit to the new European Central Bank HQ and a morbid modern art exhibit, it was a relief to return to Edinburgh for rugby, haggis and proper paintings.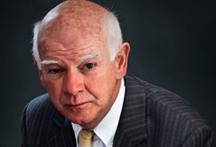 In Frankfurt, death is all around. I dropped in to pay my respects to the European Central Bank, now magnificently rehoused on the edge of the city in what used to be the fruit and vegetable market. The market halls, of Bauhaus design, have been lovingly restored, with two new connected, symmetrical towers, narrowing towards the 40th floor, attached. It is one of the most inspiring pieces of modern architecture I know, with magnificent views of the Taunus Hills from the upper reaches, where Mario Draghi and his colleagues perch. The style is austere but accommodating, which might well be how they would like to describe their monetary policy.
So where does death come in? Well it turns out that the basement of the vegetable market was rented out to the Nazi government two days a week and used to assemble Jews en route to the camps. There is a convenient railway line passing by. The ECB has a thoughtful display commemorating the dark side of the building's past on the ground floor.
Unfortunately, the brand new HQ is already too small. No one expected the ECB to expand as much as it has. Banking Union, and the so-called Single Supervisory Mechanism, has brought small armies of supervisors to Frankfurt. If banking supervision floats your boat, the banks of the Main are the place to be these days. The ECB teams oversee banks from Dublin to Piraeus and are based, curiously, in the Japan Tower downtown. But then I guess the Japanese know a lot about over-geared banks stuffed with non-performing property loans.