Howard Davies: Harangued over Heathrow and a sad farewell to Manchester
MT DIARY: The employment and business advantages of a third runway are not getting a fair hearing.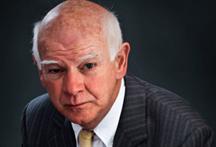 There is not much policy unanimity in Europe these days. As Jean-Claude Juncker said in his State of the Union address, Europe is 'not in a good place'. The Greek negotiations strained many relationships, and not just with the egregious Professor Varoufakis. The migrant crisis has revealed new fault lines between Germany and France, and between the West and the former East. Grexit may be out for now, but Brexit is back on the agenda. Some of our partners are wondering whether, difficult though it would be, it could yet be preferable to Bremain, if the terms we demand threaten long-cherished European principles.
But there is still one point on which, at the level of principle at least, one can find violent agreement: Europe needs to invest more in its infrastructure, to create high-quality jobs and to enhance productivity and competitiveness. Hands up anyone who is against? I thought not.
So a plan for an £18 billion investment, where the demand for the new facility is not in doubt, indeed where there is already a waiting list of companies and individuals keen to use it, should be welcomed with open arms. Especially where almost all the funding would come from overseas investors, with only a modest public sector contribution required.